As you can see from my website, I simply adore travelling. I am a keen traveller who loves nothing more than exploring different countries and immersing myself in diverse cultures. I can safely say that globe-trotting is one of the most exciting, thrilling and incredible things you can experience in life.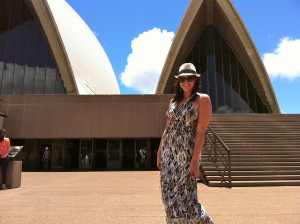 Travelling allows you to escape from the hustle and bustle of everyday life and break free from your daily routine. Look at it this way: rather than sitting at a desk all day, you could be out exploring the riverside shops along the Siene in Paris, rather than spending your lunch break playing FoxyBingo you could be sitting in a lovely beach cafe in New Zealand, and rather than going home after work to watch hours of TV, you could be seeing a Broadway show in New York.
When you go off traveling it gives you a chance to learn about yourself and others. Another amazing advantage to going travelling is that if you choose to travel with a partner you will really bond with them. Whether it is your partner or a close friend, your relationship will be strengthened by the end of the trip. There will be ups and downs, disagreements and arguments, but this will just make you stronger. If you're like me and have opted for solo travel – there are heaps of pros and cons, but ultimately you walk away with a greater understanding of yourself, of your desires and of your understanding of the world around you.
If you are a keen photographer then you will be able to add a diverse range of photographs to your portfolio after a globe-trotting trip. Every country has its own stunning natural landscapes to offer as well as historical sites, wildlife and culture. You'll have the chance to photograph everything, from cityscapes in Toronto to sunsets in the Okavango Delta and gorgeous wildlife in Australia.
Travelling allows you to taste a diverse range of delicious cuisines. If you are an adventurous eater then you are probably keen to try snails in France, zebra in Namibia and even kangaroo in Australia. But even if you are not a foodie, you might find it interesting to see each country's interpretation of the same dish.
Whether it's the amazing and unique activities, learning about yourself or others, the photo opportunities, or delicious international cuisines… I simply adore travelling. So what are you waiting for? Get off your butt and start travelling – I'm sure you'll start to adore travelling too!